About Us
Stephanie & John Spears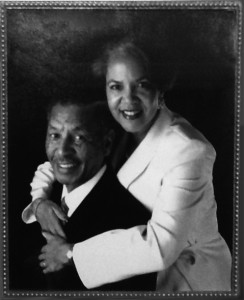 Husband and wife, John and Stephanie Spears, began a serious interest in collecting fine art with their first major acquisition, "The Healers" by Ernani Silva. The love of art as an expression of culture became a passion for the couple, especially as their travels took them to such far off places as South and West Africa, Brazil, Cuba, Indonesia, China and Australia as well as the Caribbean. Now when we visit new destinations, we head straight to the museums and art galleries.
The concept for a home art gallery began back in 2004 when they first hosted a show at their home in Oakland, California for long time friend and nationally recognized artist Cleveland Bellows release of two limited edition prints from the We Dance series entitled "Black on Black" and "Black on White". Their private collection grew and they continued to educate themselves, particularly about prominent and the up-and-coming African American and Caribbean artists. With the support and guidance of their very good friend, Gwen Ovid of the Gwen Ovid Gallery of Oakland, their expertise continued to flourish.
In 2005, the couple purchased a new home in Elk Grove, California.  It provided the perfect setting for their new endeavor and from the first Art & Jazz Reception in November of 2005 was born The Spears Gallery, initially showcasing the works of Enrique Mora of Puerto Rico, Paul Nzalamba of Uganda, and Cleveland Bellow of Bay Ventures Gallery in Hayward. From 2005 to the present they have shown the works of Synthia St. James, Gale Fulton-Ross, Milton 510, Sarrita King, Lynda Bibbs, Angela Dallas as well as numerous other artists.  In 2014 the Spears curated the Dee Williams Retrospective in Oakland on behalf of her estate.
Not only is art an expression of culture, when one selects a piece that they are drawn to, it becomes an expression of self, one that can both beautify the home and be a valuable asset or investment. It is our mission to bring to you, the opportunity to enjoy and purchase beautiful works of art from around the world.
Stephanie and John Spears